#SuzyCouture: Balmain Makes Bold Move Into High Fashion
文章導讀
Designer Olivier Rousteing discusses his couture debut
敬請期待中文版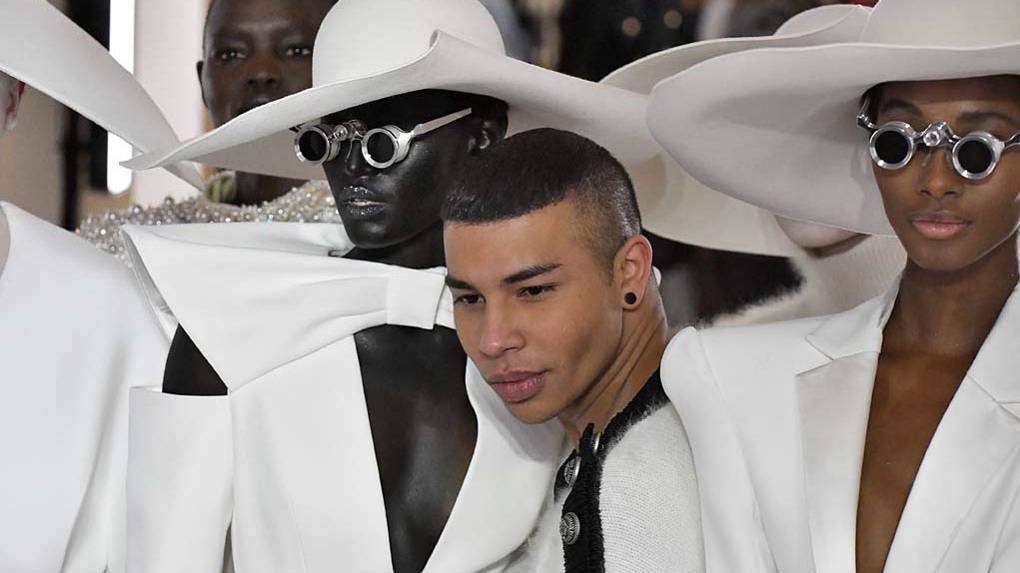 Designer Olivier Rousteing takes a bow at the Balmain couture show
Getty Images
The look that I feel really emotional about is the first dress because it's totally white, it's totally pure," said Olivier Rousteing about the opening of his first haute couture show for Balmain.
"Sometimes I feel misunderstood because people just see the bling of me, but I think with couture I can show my craftsmanship," he continued. "Sometimes I know that people think I'm tacky or cheesy; they should see beyond that."
Balmain Haute Couture Spring/Summer 2019
Filippo Fior / GoRunway.com
The signature pieces of this show were at its start – plain, pure and slender in white with a flat sweep of a hat. Then there was the ending, when puffed-up tulle in apple-green or lilac appeared in dresses for a 21st-century ball, for which gowns were shown throughout the Paris couture season.
But the designer, still only 33 after nearly eight years as Balmain's creative director, cramped his powerful style by showing in the house's upcoming store in a shopping street in Paris.
In absolute contrast to his usual ultra-modern, energetic fashion 'army' marching through an airy space – shown in Balmain menswear less than a week ago – the designs felt constrained. In spite of bulbous decoration, angular geometrics and fan pleats, these shining, sparkling clothes seemed to be looking back to the future, more like a mirror of the Space Age created by Andre Courreges 60 years ago.
But if there were shadows from the past, Rousteing meant it to be that way.
"It makes complete sense to me to finally arrive at that point because couture is the essence of the brand," he explained. "It is an homage to Monsieur Balmain who built the house and to Oscar de la Renta who helped the house to get the elegance. So for me now, it's interesting to see what it could be in 2019, when couture is done by someone who is in his thirties."
Olivier has had lightning success by threading fashion into the digital world far earlier than in other, mightier Paris fashion houses. His Instagram followings are legendary and his own persona has become part of the story. But rather than hitching on to the fashion craze for street culture, he has turned in the other direction. Maybe that is why the runway show seemed such a torturous work in progress.

"Everybody is going for street runway and sportswear, and in my opinion, we went too far," the designer said. "We need to bring back the knowledge of couture. Fashion is about inspiration as well.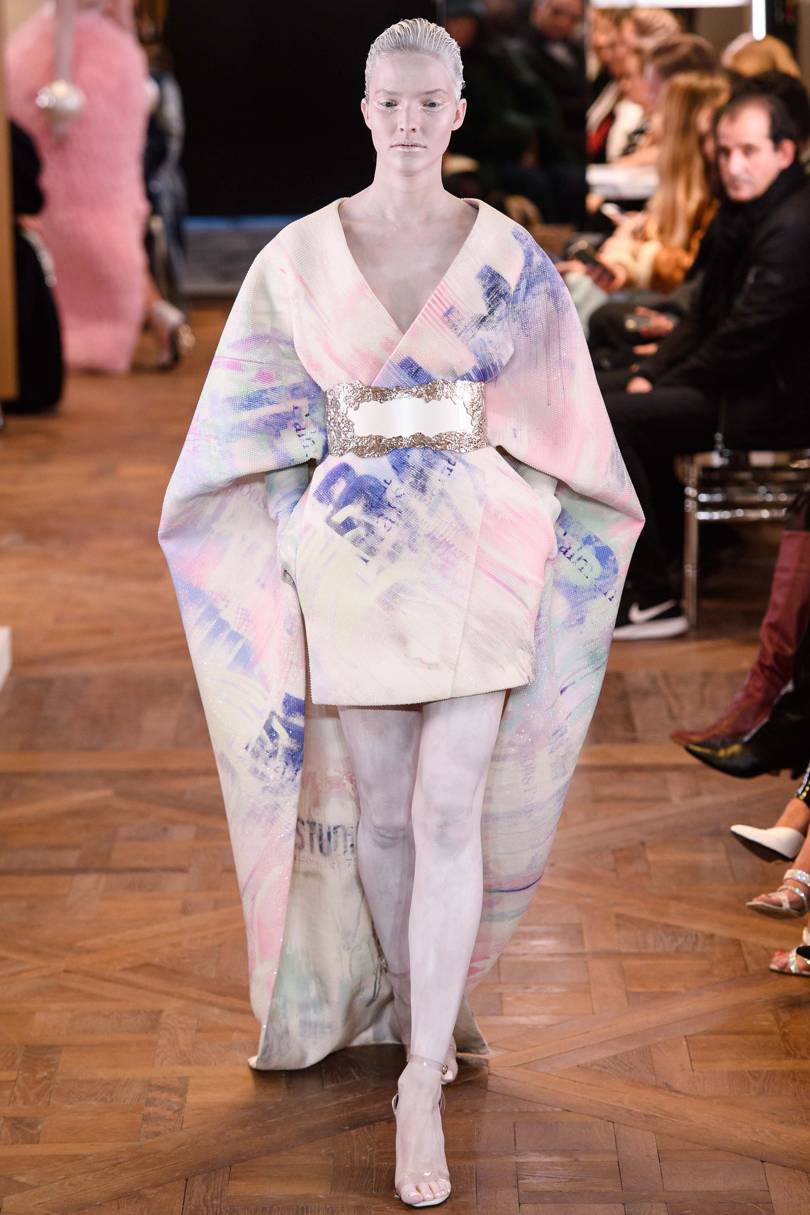 Balmain Haute Couture Spring/Summer 2019
Filippo Fior / GoRunway.com
"I understand everyone is obsessed about what is real, what people wear in the street, and this is important to me," he continued, "But couture is aspirational. It's time for people to dream again. I am part of the generation of Instagramming, digital and being fast, but being young doesn't mean that you don't care about quality."
The fundamental reason why the show did not work, in spite of its pretty meld of pinks and blues and some intriguing workmanship, is that Rousteing needs time to refine his vision of haute couture. I remember the strength, but stiffness, of his early shows and asked how he envisaged his development in the next few years.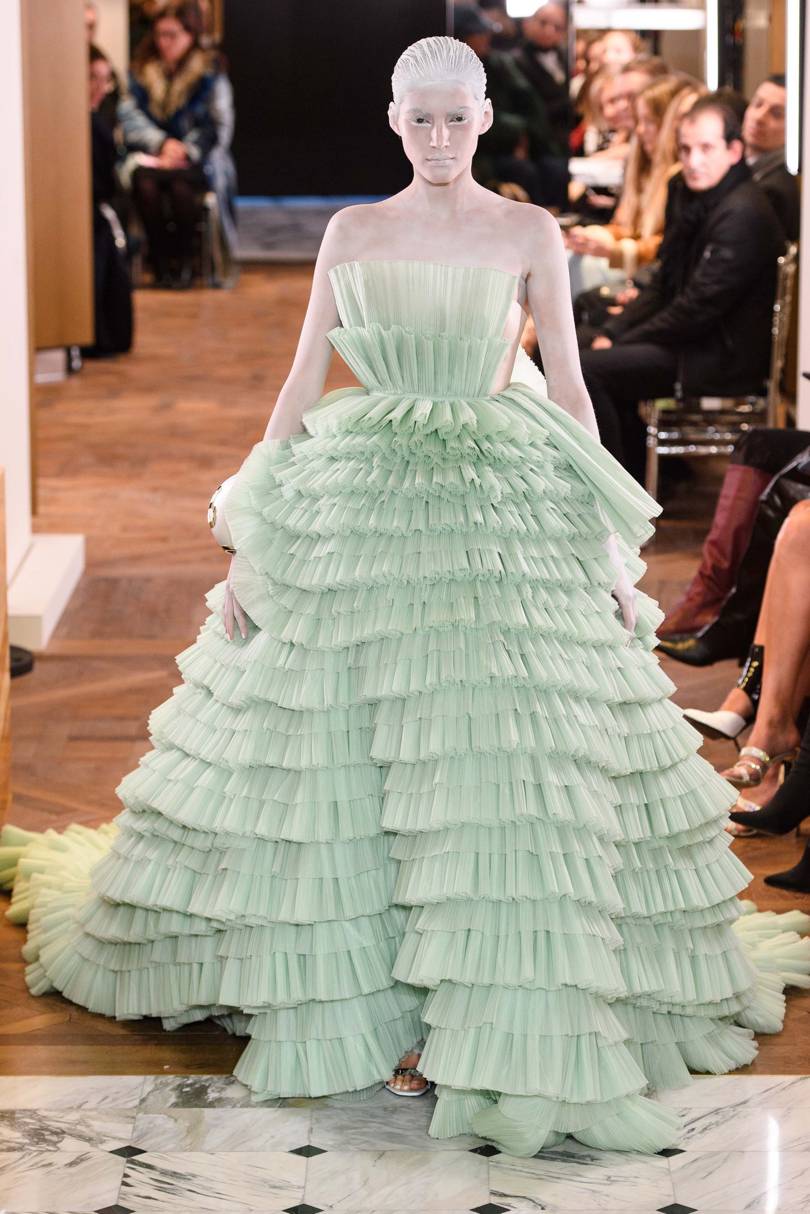 Balmain Haute Couture Spring/Summer 2019
Filippo Fior / GoRunway.com
The designer replied, "I think it will be about challenging myself with my tailoring, I want to make Balmain even bigger, more international. I fought so much for so many things in my youth, like the fact, when I started with my digital, I got a lot of criticism for being too cheap. Today it's most natural what I felt five years ago. So I'm not fighting. Now I feel more free, at peace with myself."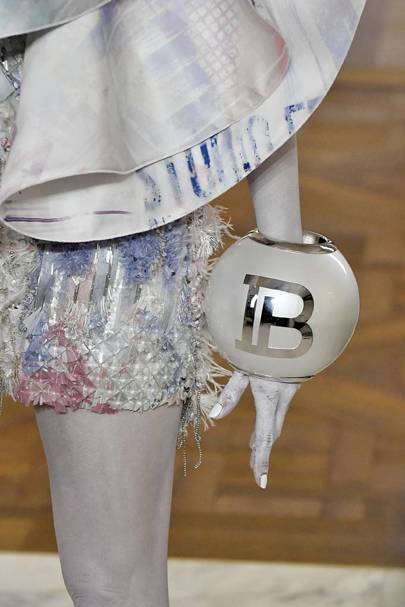 Balmain Haute Couture Spring/Summer 2019
Getty Images
I wondered if Olivier saw Instagram as an essential opportunity or simply a pragmatic way to advertise without a big budget.
He replied: "It was important for me to communicate directly with the audience with the young generation because when I was a young kid I felt I did not belong to the fashion world – there was a feeling that it was elitist. With the digital world we think, 'Let's break boundaries, be more inclusive with fashion'."
轉載聲明
本內容系VOGUE時尚網原創或經官方授權編譯轉載,嚴禁以任何形式或方法轉載或使用,違者追究法律責任。
將本文分享到
你可能還會喜歡
更多相關網站內容