#SuzyNYFW: The Beat Of Fashion From New York To Spain's Córdoba
文章導讀
Michael Kors brings out Barry Manilow; Oscar de la Rental is inspired by travel
敬請期待中文版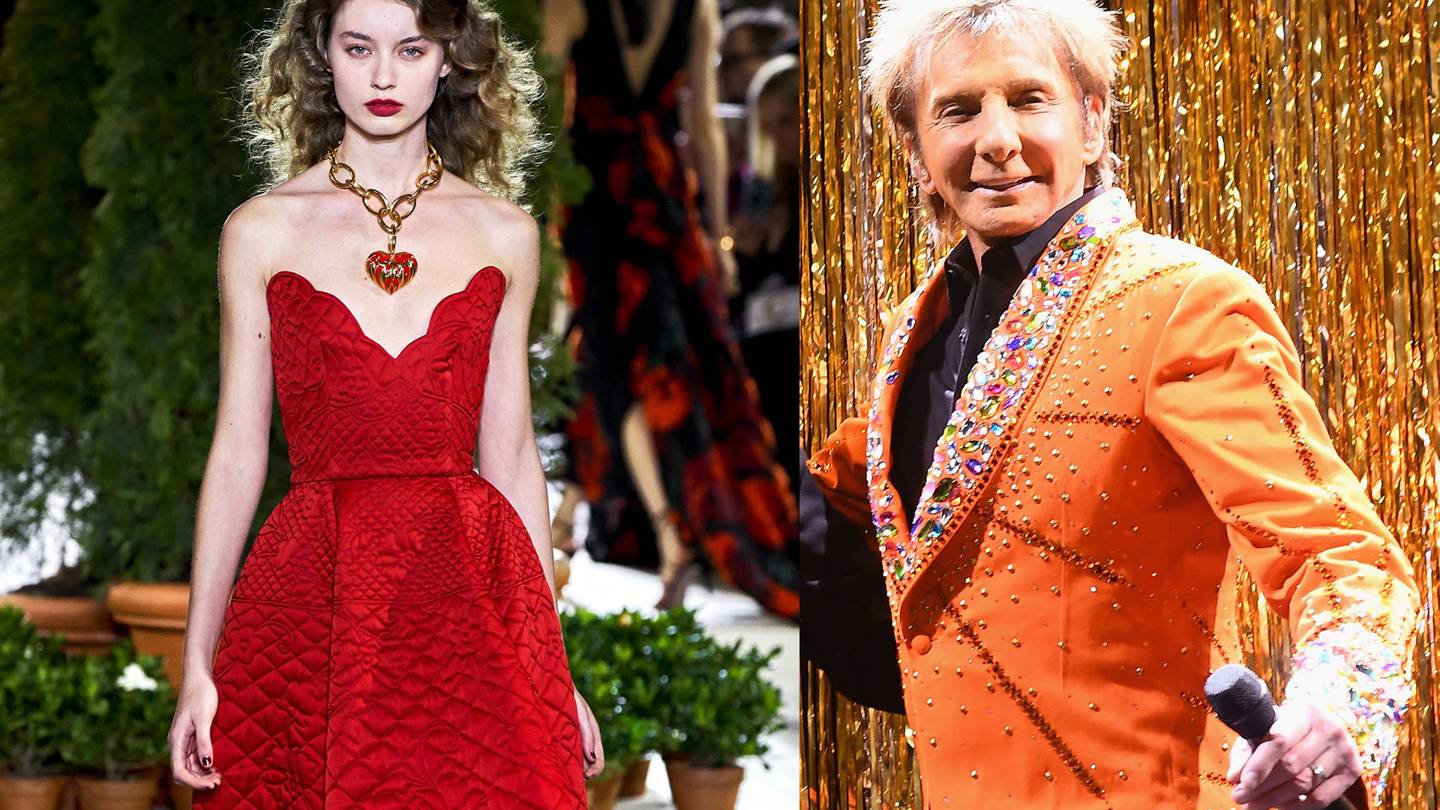 Michael Kors
"Bring on New York at night, but in the daytime, so you don't have to stay up too late!" joshed Michael Kors before his show.
And what could be crazier than seeing shimmering clothes on a floor sprinkled with sparkles while Barry Manilow stands on stage belting out "Copacabana" while, beside him, model Bella Hadid dances to the music?
All this at 10.30am. And on Wall Street.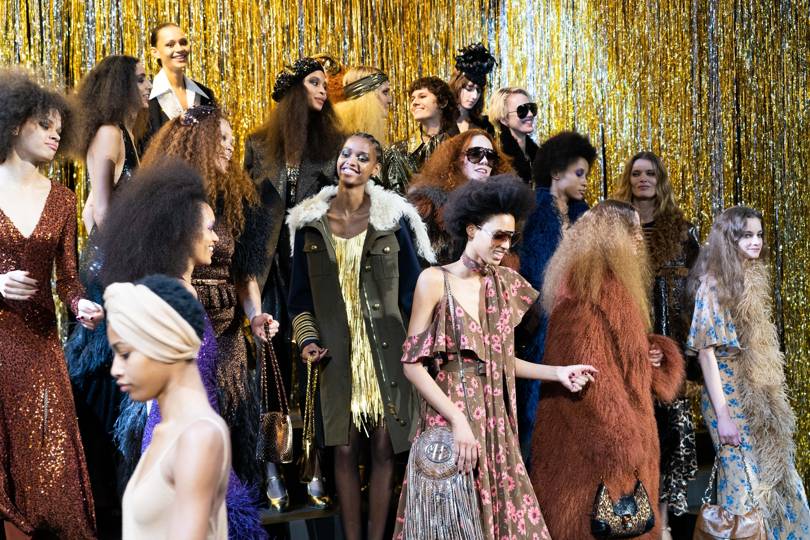 Models join in dancing at the finale of Michael Kors's show
Andrea Adriani / Gorunway.com
Corny? Cheesy? Maybe. But Kors knows how to make dressing a success, day or night. He looked back to the 1970s when he moved to New York, taking his school yearbook and living through a world he described as "a little Bette Midler, a little Bianca Jagger and a little [Mikhail] Baryshnikov. It's this famous mix of people."
The show was a reality check of clothes suited for today's 21st-century women who may be edging towards downtown but remain, in spirit and in fashion, uptown girls.
With so many other brands swapping their founders for younger designers, and with Donatella Versace joining Capri Holdings (which is the company behind Michael Kors), there might have been either shivers of insecurity or familiar fashion lines. But Kors rose to the occasion with a slick mix of jackets tailored to the waist, cardigans, coats and floral skirts with hippie-deluxe polish.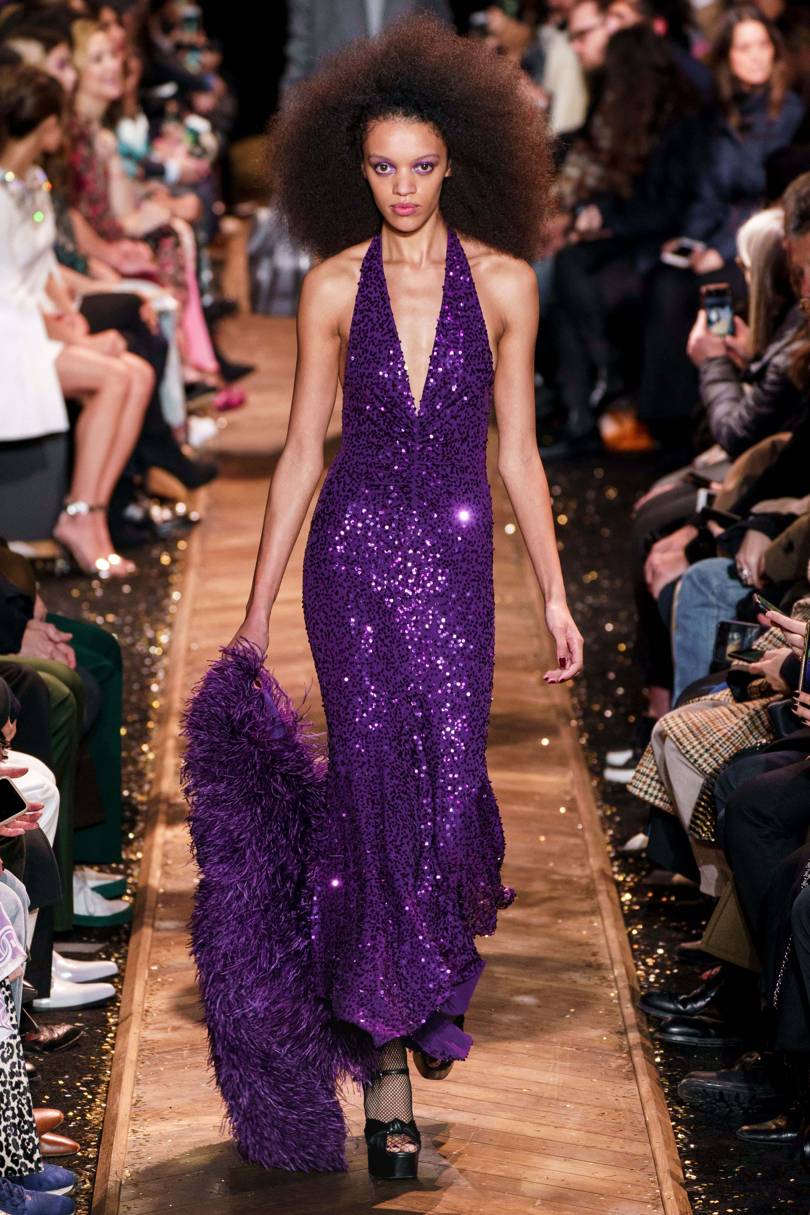 A purple rain of glitter makes this slinky Kors party dress glow
Alessandro Lucioni / Gorunway.com
The surprises were not so much the garments themselves, as their unexpected delivery, as in a purple rain of glitter on a skinny party dress, followed by a coat tailored for walking into the office on Wall Street.
"Why do coats have to be boring? They cover up but, at the same time, they are joyous," the designer said, while rooting for tailored jackets 'mixed with things that are soft' for a 'sense of polish and power'. Another spirited idea was plaid mixed with florals.
Patti Hansen joins designer Michael Kors and entertainer Barry Manilow at the finale of the Kors show
Getty Images
The collection was appealing and infinitely saleable. With the stores in New York seeming alarmingly empty, the Kors collection must come as a valentine, wooing customers to buy. Especially if Barry Manilow is part of the packet.
Oscar de la Renta
Of the many fashion brands worldwide searching for new designers, Oscar de la Renta is one of the rare ones to be on the upside.
Creative directors Fernando Garcia and Laura Kim – so modest that their names were nowhere on the programme – have put thought, intelligence and imagination into their quest to give a new life to the brand, whose founder passed away five years ago.
This season, they turned for inspiration to Spain, which was apparently beloved by Oscar himself. With the help of lighting supremo Thierry Dreyfus, who illuminated the domed ceiling of the Cunard Building, the designers created an ambiance that was steeped in history, but also timeless. Just like the clothes.
The designers focused on the Córdoba Mosque, which is now the city's cathedral. It sounded like a solemn statement, yet the show was simply a look at discreet, youthful elegance.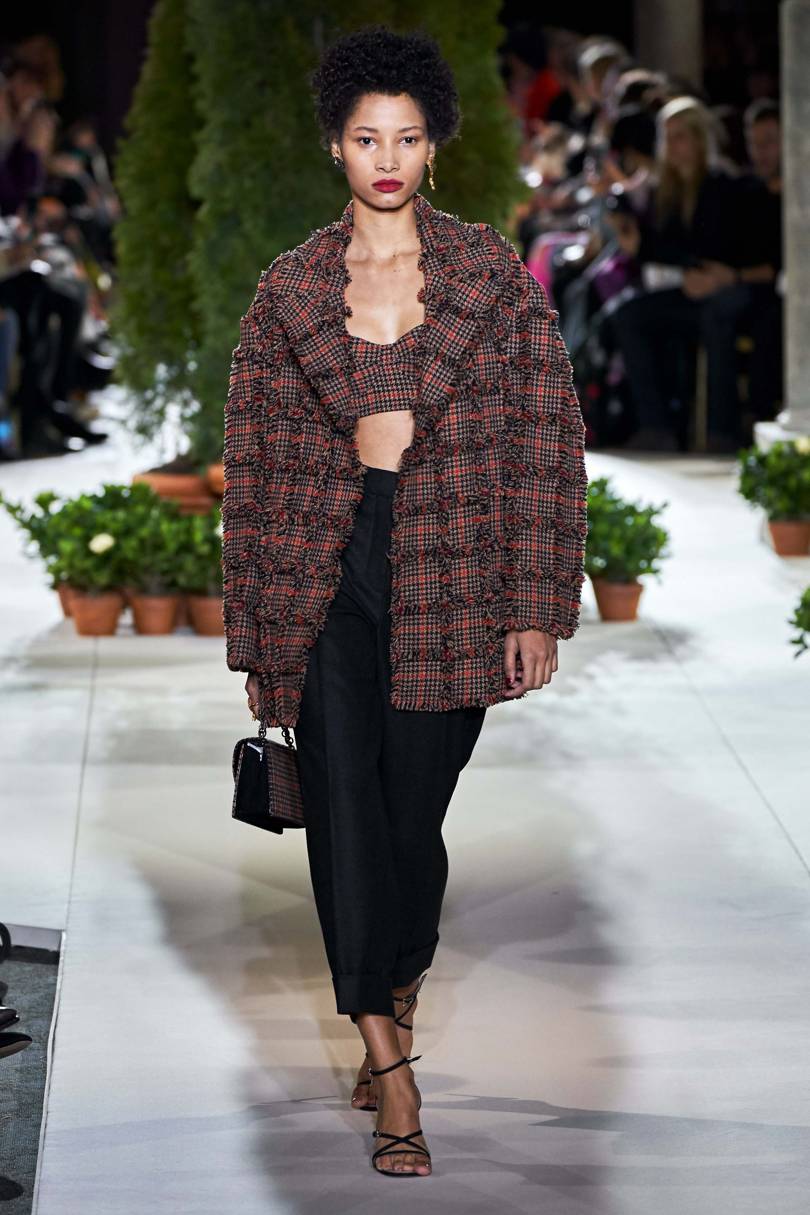 Garcia and Kim brought thought and imagination to the use of checked tweed, for example
Alessandro Lucioni / Gorunway.com
After an opening of checked tweed tailoring that looked too sensible to be convincing, the duo moved into eveningwear that might be in velvet, patterned like an oriental carpet, appear like a cluster of sky-blue fans made into an evening dress, or take a direct route towards something simple to balance florals.
There was an overriding use of orange – a colour that has appeared everywhere while the year is still young.
"It was a collection inspired by our travels, specifically in Spain, Dubai and the Middle East," said Fernando Garcia. Laura Kim added, "The show venue was inspired by this mosque in Córdoba, which is now a Catholic church, so we find it so fascinating. We love how the different cultures mix in the South of Spain."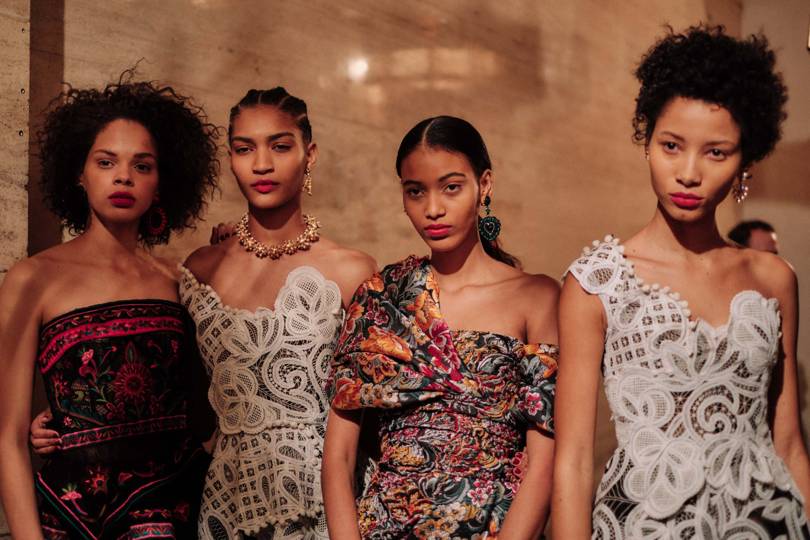 At the Oscar de la Renta show
Jamie Stoker
The designers explained that they wanted to create a Fall collection that was inspired by Spain but was suited to today's world.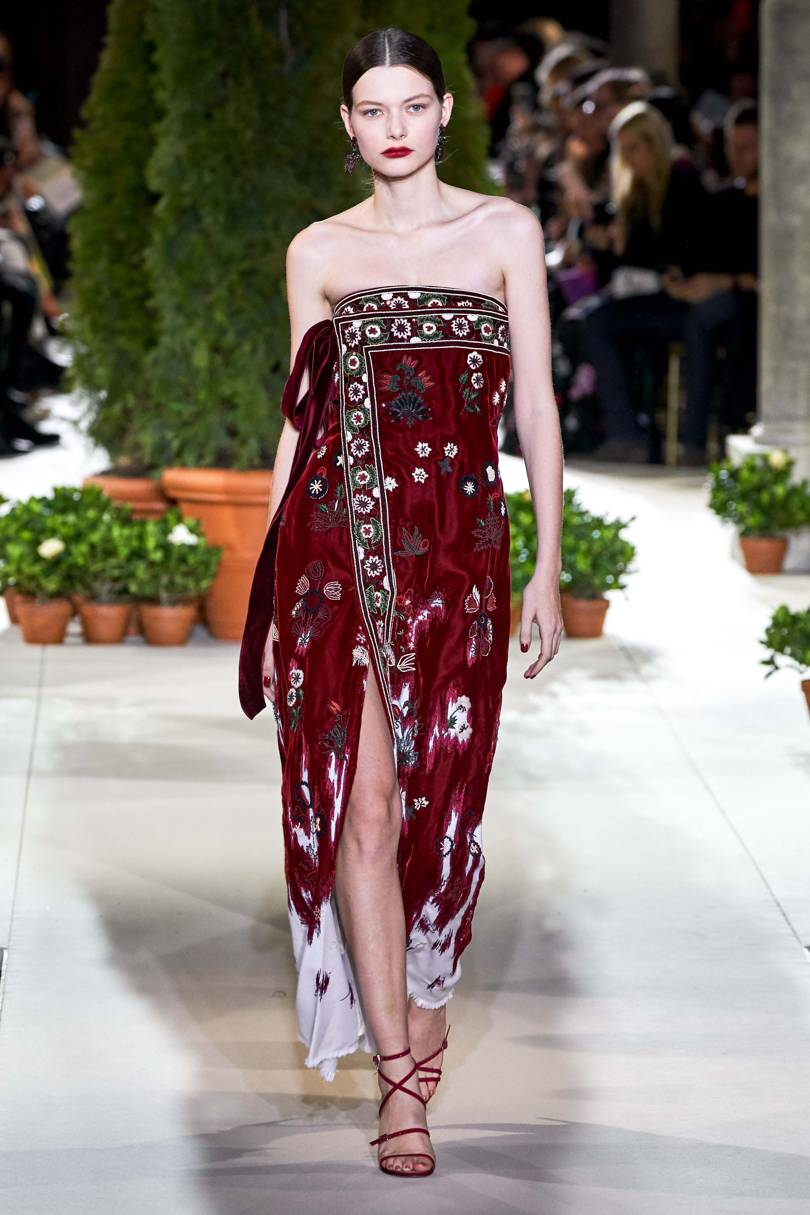 The collection brought together influences from Spain and the MIddle East
Alessandro Lucioni / Gorunway.com
"No flamenco dresses but the air of what Spain is today, which is a melting pot of cultures – very much like New York City," Garcia said of a collection that was both fresh and thoughtful.
轉載聲明
本內容系VOGUE時尚網原創或經官方授權編譯轉載,嚴禁以任何形式或方法轉載或使用,違者追究法律責任。
將本文分享到
你可能還會喜歡
更多相關網站內容