#SuzyMFW: Knitting As A Wearable Art Form
文章導讀
Missoni and Agnona prove the versatility of today's rainbow coalition
敬請期待中文版
Sumptuous knits for Autumn/Winter 2019 by Missoni (left) and Agnona
GoDigital
Missoni: A Forest of Ideas
"Everything is knitted – everything," announced Angela Missoni, after the last blue spotlight had illuminated and then faded away from the final outfit in the long show.
Ah! Haute knits! While mere mortals pull a sweater on at the weekend, or wrap a woolly scarf onto the neck, the Missoni family belongs to knit royalty.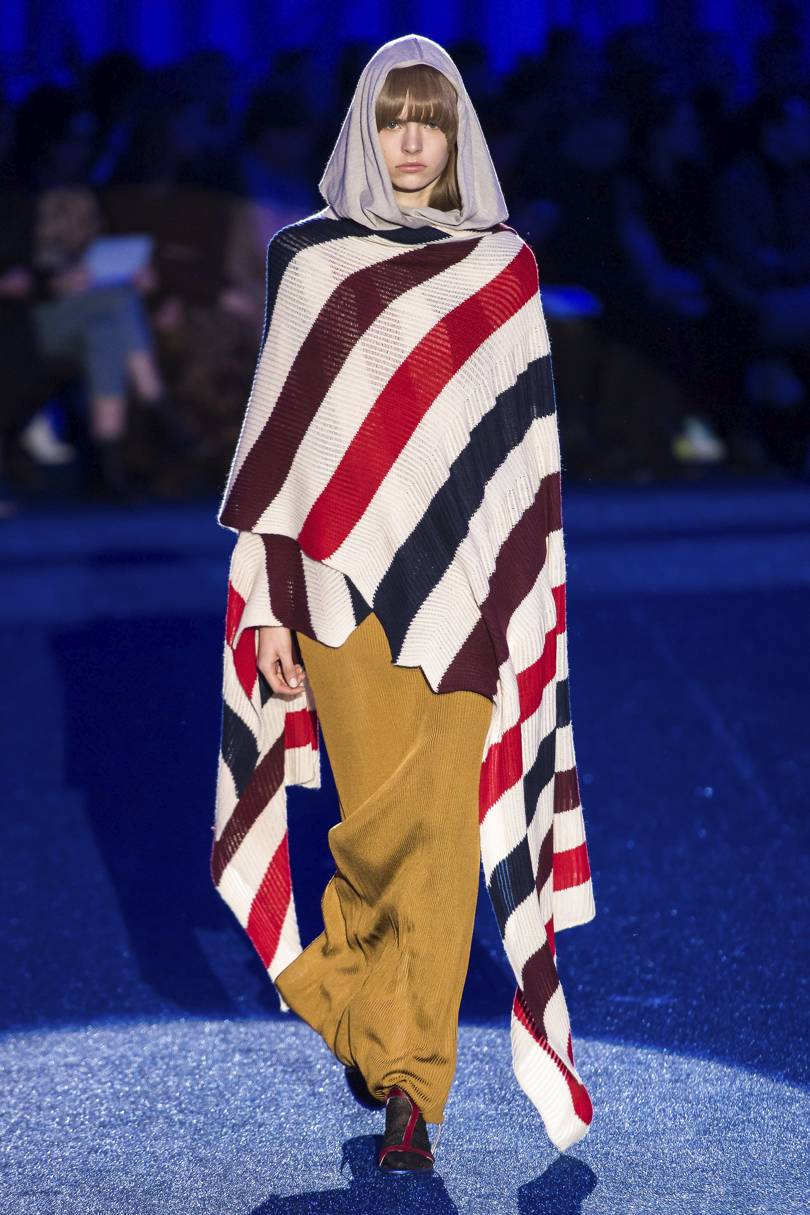 Missoni, Autumn/Winter 2019
GoRunway
So involved is Angela in the treatment of every kind of garment, that a massive scarf with rich, wine-red stripes formed a giant shawl. It might even have been attached to a mustard ankle-length dress, for the darkness beyond the spotlights was so dense, and everything was so rich and rare, that not everything was comprehensible.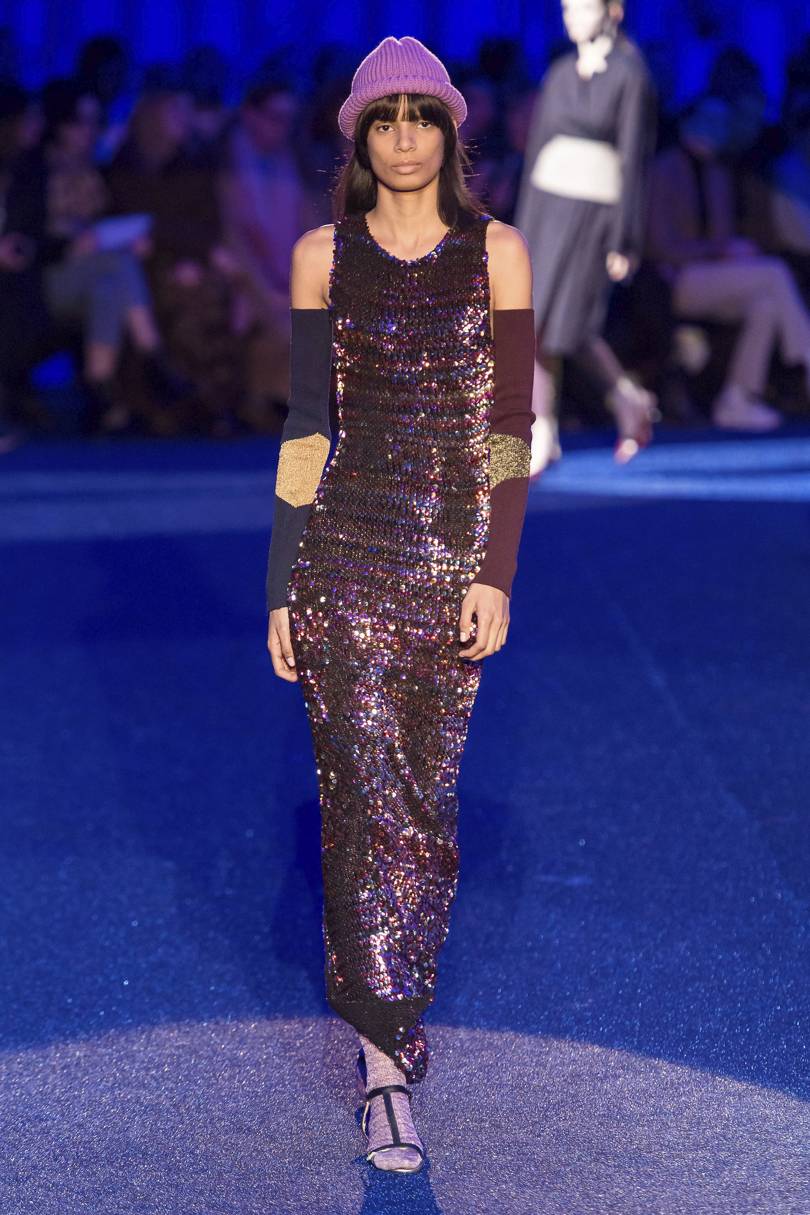 Missoni, Autumn/Winter 2019
GoRunway
The menswear was easier to navigate at a fresh Milan show space, in the round. There was a similar story of colour and texture, with a wine-red coat and purple plaid trousers; or when blackcurrant pants melded with a checkered coat, soft as a bathrobe.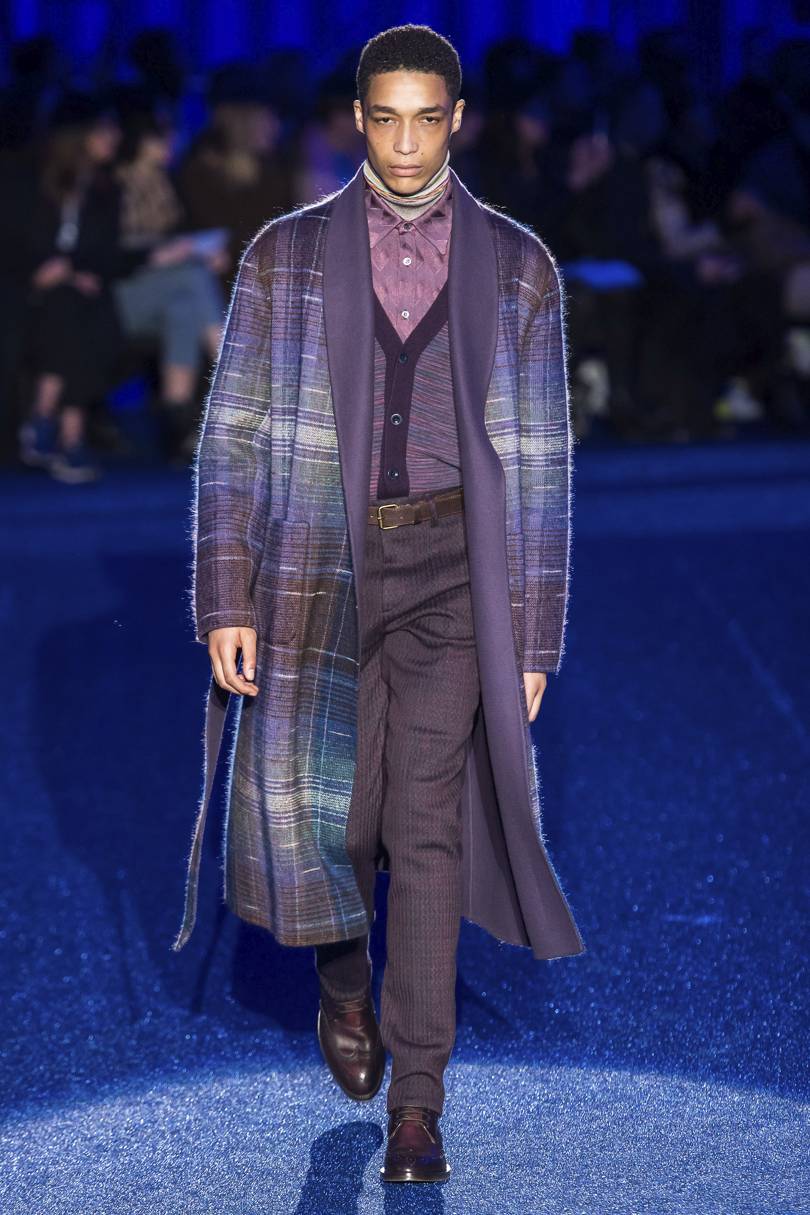 Missoni, Autumn/Winter 2019
GoRunway
Angela's strength is her enthusiasm to create every outfit in the family tradition. But the word 'edit' came to mind as the show continued.
It started with a patterned coat, cinched with an obi belt. Other decorated coats followed, all apparently with different techniques. As the show of almost 70 pieces went on, there was little chance to wonder at the extraordinary techniques; nor to absorb much, beyond a fine use of colour, mixing with the autumn season's favourite yellow.
It seems churlish to criticise a design with a forest of ideas. But a few trees might have been chopped down, the better to see the rest.
Agnona by Simon Holloway: Cleaning up Grunge
At Agnona, built on the wool resources of Ermenegildo Zegna, fashion has inched its way forwards as British designer Simon Holloway makes a real contribution to developing the house.
First there was the presentation, with the models casually criss-crossing a large and empty space. Creamy wool colours morphed into quiet checks; then they adopted a sense of grunge.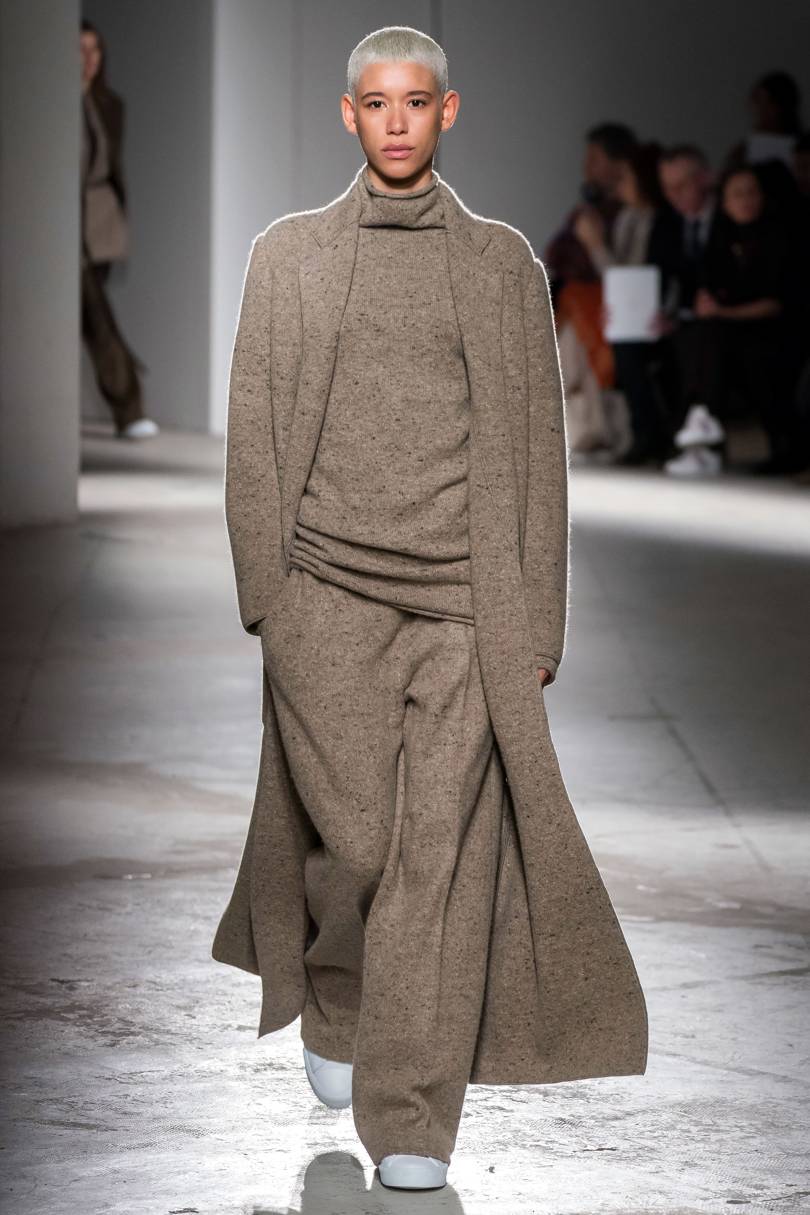 Agnona, Autumn/Winter 2019
GoRunway
Holloway said of the energy he put into this fine show, "I'm always looking for a clean, pure silhouette. I wanted it to be long and elegant."
"We started with the idea of grunge, which was happening when I just left fashion school in the early Nineties," he explained. "There was a landmark Steven Meisel shoot that Grace Coddington styled ['Grunge and Glory', Vogue USA, December 1992] and I thought how that relates to fashion now because of this continued casualisation. But I wanted to address it in a very elevated, Agnona way and play with elements of tailoring in the coats and sportswear. So I added an Aran sweater with a floral-printed skirt, or broke up a suit with a sweater and walking sandals, or a tartan kilt worn with a hand-tinted alpaca car coat."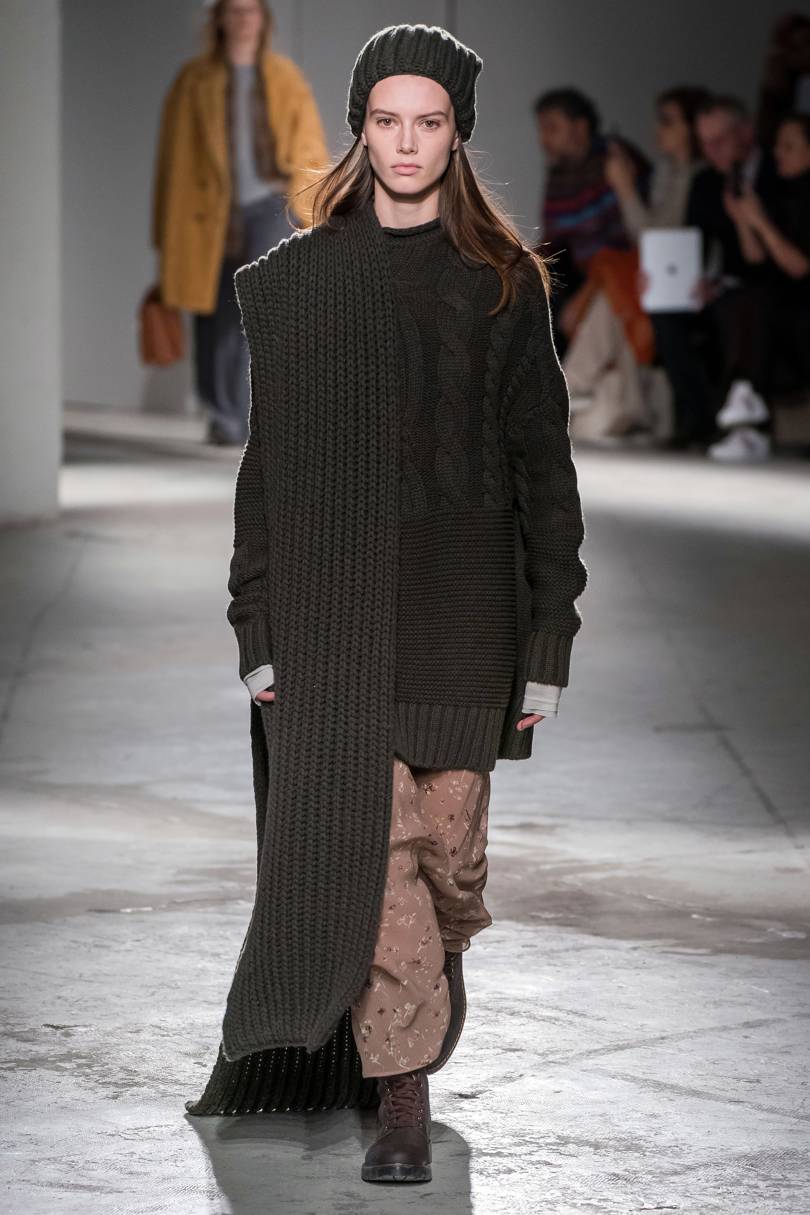 A luxury update of Nineties grunge by Agnona, Autumn/Winter 2019
GoRunway
Pale colours and tones of beige that started off as smooth as water, were interrupted in a beautiful way with pattern and pinks.
Simon explained, "When you have beautiful, luxurious fabrics like this, they need to have an attitude and be worn with things that are unusual, which was what grunge was all about. It was about wearing a vintage slip or a crazy oversized car coat with something that was wrong, so that little bit of wrong looks right."
The intelligent approach was underscored by tactile fabrics made by the Zegna mill, such as diagonal-weave recycled cashmere woven into sumptuous double-faced cloth.
Simon was enthusiastic about his research and development trips to the mill, in Trivero, in the foothills of the Alps. "I was having a bit of mind meltdown about the textile artist, Anni Albers, and he made this amazing tweed for me."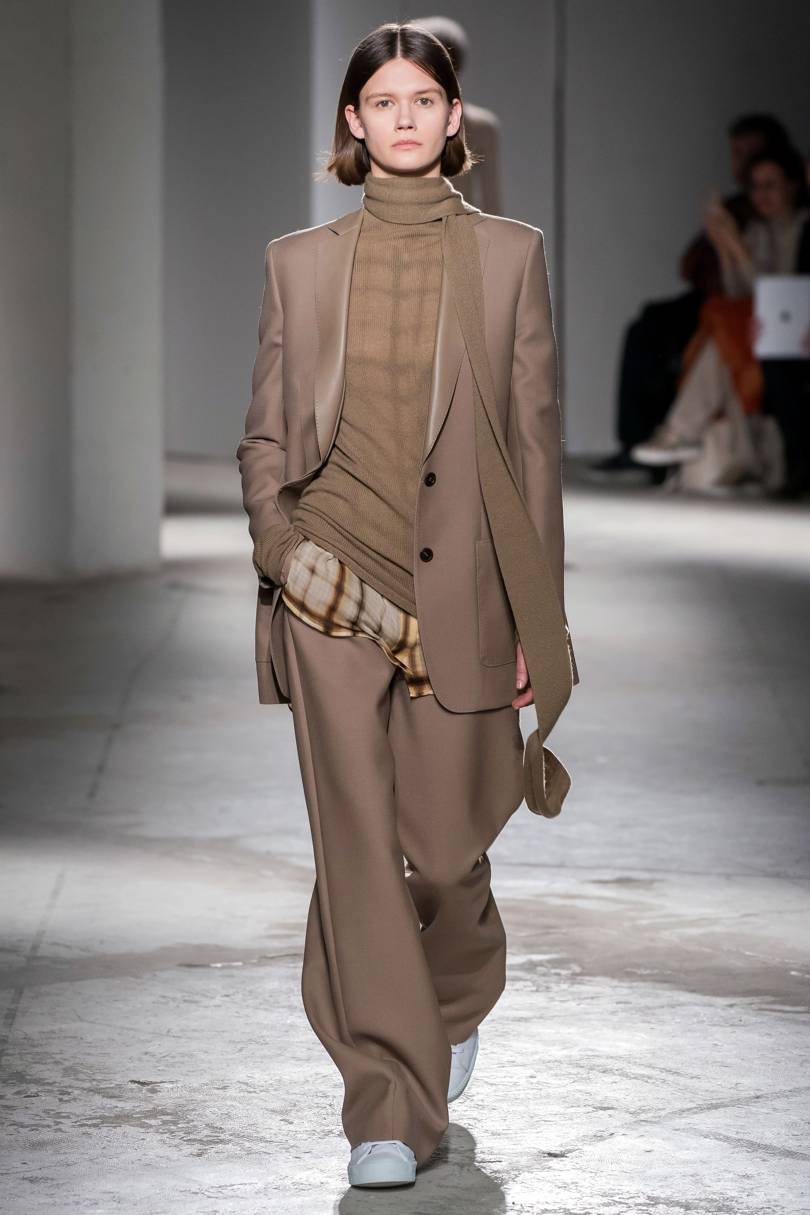 Agnona, Autumn/Winter 2019
GoRunway
Cut on the bias so that it clings to the body while being tailored, with a narrow Nineties shoulder, it was a fitting addition to a collection that showed classic and luxurious can still have lots of imagination.
轉載聲明
本內容系VOGUE時尚網原創或經官方授權編譯轉載,嚴禁以任何形式或方法轉載或使用,違者追究法律責任。
將本文分享到
你可能還會喜歡
更多相關網站內容